When Google Wave was first announced, it was confusing to understand what it was and how it would work.
Then I saw this video and thought it was perfect to share with you….
As I answered questions via email recently that became rainbow hues of colors during the volley, it made me wistful for the Wave as I await my Invite…
Did you know the Invites are actually being auctioned on Ebay?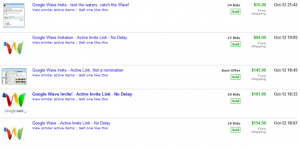 Google Wave will start to become a lot more valuable once more users get access to the site. It seems that Google is trying to roll out Wave to people as quickly as the service will allow, so the wait for those of us who haven't been lucky enough to snag an invite yet hopefully shouldn't be too bad.